An Introduction to Queen Scarlett O'Slimera
Queen Scarlett, aka Joan Gold Cypress, hails from Nashville, Tennessee. She first came to Oregon on the back of a motorcycle with her high school sweetheart, who has been her husband and Royal Consort now, for more than 50 years.
Always a creative soul, Ms. Cypress learned to play piano in her youth and performed in every community in which she lived as her children grew. When her daughter expressed an interest, Ms. Cypress learned to tap dance with her daughter, performing as a duo for many years.
Ms. Cypress has been a regular performer at the Oregon Country Fair for many, many years, first as one of the original OCF fairies and then as a regular with the Radar Angels. For the past several years, she has performed as one of the duo of The Blues Sisters, "with a mission from the Goddess to keep the dance alive."
Queen Scarlett O'Slimera was born/created/emerged in 2004 when Ms. Cypress competed for the title of Slug Queen at the annual Eugene Celebration competition. A spirit of generosity consumes Ms. Cypress and she was inspired to have her reign include helping those less fortunate. This southern belle campaigned against hunger at every opportunity. Making things happen with her sheer determination, sassy charisma and homespun pluck, she organized and hosted a Queen's ball to benefit the local food bank, Food for Lane County. An avid supporter of the earth and all things green, Queen Scarlett has also donated generously to BRING recycle.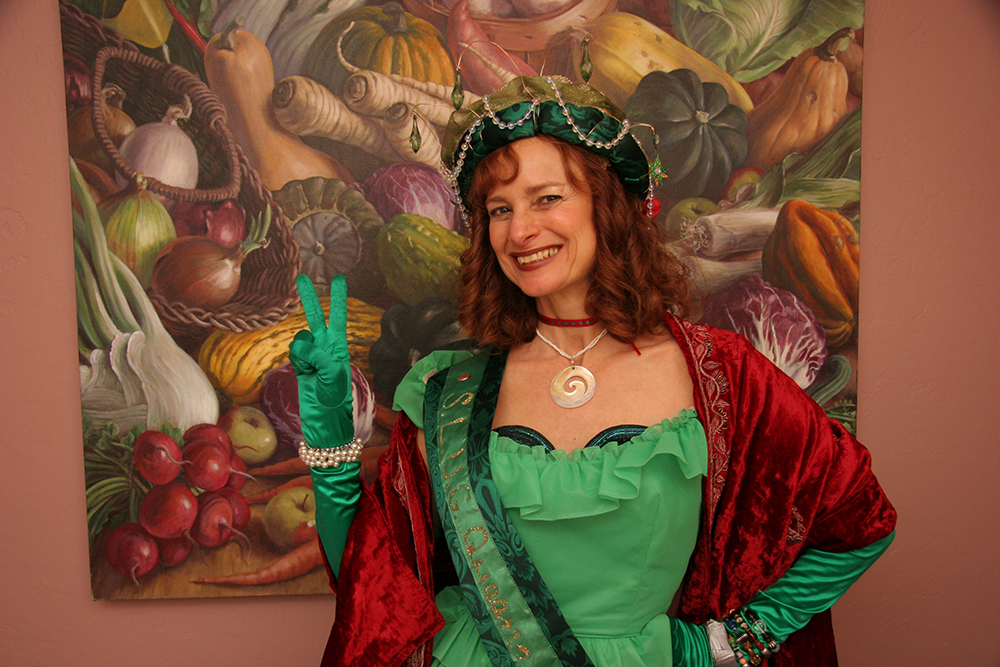 Queen Scarlett's generosity is infectious and every Queen elected since her time has carried on supporting a non-profit near and dear to them to raise awareness and much-needed funds.
Now the Queen brings you Queen Scarlett Productions, a family-oriented publishing company to unify communities and families everywhere. Her first project was the musical storybook "The Nap Rap." Her newest release is "Have a Good Roam," yet another engaging rhyme/song, picture book and free, downloadable song. This book encourages children of all ages to celebrate adventure in imagination and reality. Several local professional musicians make the music inspirational. So, "Have a Good Roam" and remember, there's no place like home.