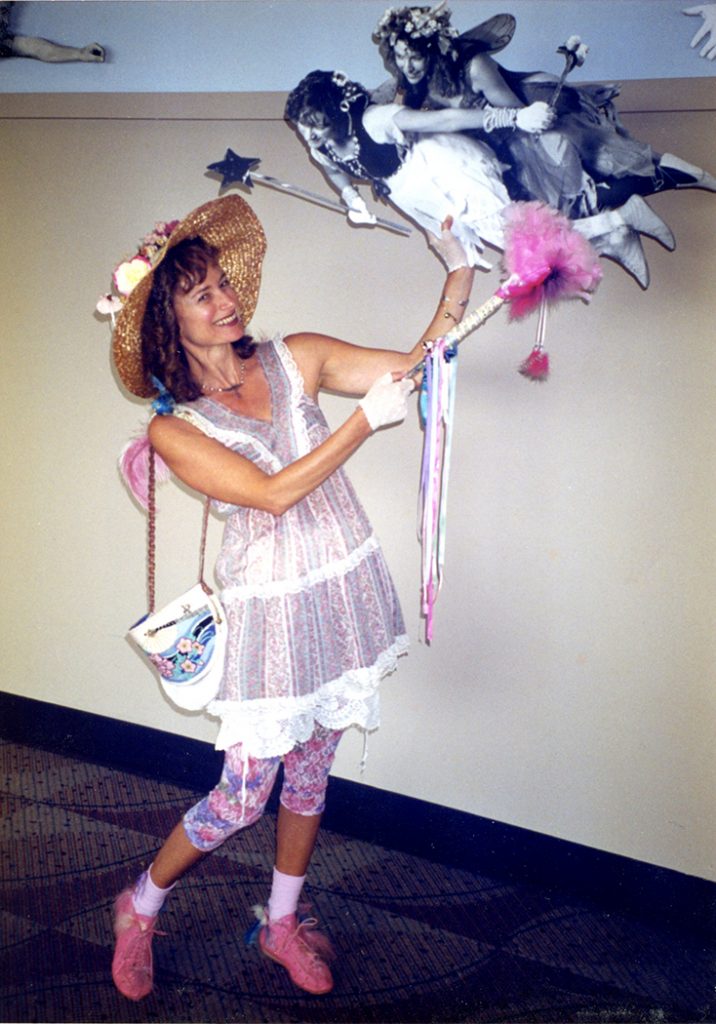 May all of our unique ways of FLYING be uplifting.
I do declare,  today's word is FLYING.
Seems flying is a desire we humans have wished for throughout the many ages. Back in the mid-80s, I got to be part of "Flight Patterns," a mural best known as The Flying People. This project, by the late David Joyce, was created and displayed at the Eugene Airport for several decades. In the 80s, the Radar Angels were the first fairies of the Oregon Country Fair. Most of the Angels were unable to attend David's photo shoot. However, on that gusty, chilly day, Shawn Fontaine (as the Rose Fairy), and I (as Dusty, the Feather Fairy) flitted downtown to be photographed in our whimsical outfits, with magic wands and fairy wings. 
Maybe it was my southern charm, maybe it was the magic wands. Whatever it was, David took a fancy to us. When the project was completed, he placed us on the wall twice, flying at both ends of the hallway. Oh, I was over the moon. I felt immortalized! Travelers could see us coming and going. 
Alas, in the past few years, all of us Flying People were taken down while the airport was being  remodeled. Now word is that we have landed back at the airport where we belong. I gotta say, it's just fittin'!
Seems my wish has come true. All of us flying surely adds an avant-garde feel that can only enhance the airport. It just makes PLANE sense. 
Blessings to y'all
May all of our unique ways of FLYING be uplifting.
Peace & Love,
Queen Scarlett