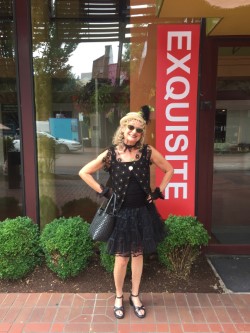 I do declare today's word is SIGNS.
Looking for guidance along the way.
Want to feel exquisite sometimes?
Look for a sign and Bingo! you might just find yourself there.
I want to thank Queen Radia for pointing out the sign across the way from where we were wishing Queen Slugasana a Happy Birthday earlier this summer.
And a bigger thanks to my Royal Secretary, Saint Clare, for the surprise of showing up to take the picture at the sign.
May the SIGNS positively guide us.
Blessings to y'all
Peace & Love
Queen Scarlett