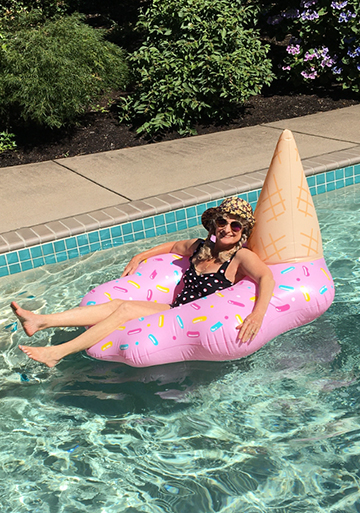 I do declare today's word is QUEST
If it's not one QUEST it's two
The list goes on and on of all there is to do.
I'll keep searching for knowledge and understanding
Who knows, maybe take a rocket ride for a moon landing!
Now there's some that aim to reach a steep mountain peak
Not as daring…love and happiness is the priority I seek.
While persevering in writing and staying creatively active
Pursuing imaginative ways to be charmingly attractive.
Maintaining ways to be healthy is a lifelong QUEST
Caring for body, mind, and spirit to be at my best.
It's summertime and you can find me looking for fun
While taking protection from the blazing hot sun.
So lately my QUEST is to stay calm and cool
Thanks to dear neighbors for sharing their pool.
What a joy floating on a dreamy cone…
Makes me feel like a queen on a throne!
Living here in the Wild West I feel extremely blessed
May we all be well and manifest our QUEST.
Blessings y'all
Peace & Love,
Queen Scarlett