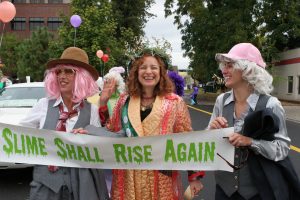 I do declare today's word is RISE.
Back when I was hoping to become queen, I chose "The Slime Shall Rise Again" as a slogan. I even had a banner made, which was proudly presented at the Eugene Celebration parade on day two of my reign. That year it rained throughout the whole party weekend. Though low and behold, it did not rain on my parade!
Blessings to y'all
May all of our hopes RISE to fruition.
Peace & Love,
Queen Scarlett