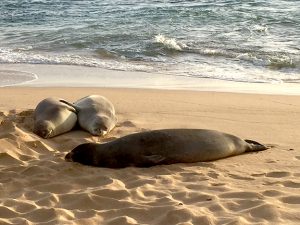 Aloha y'all,
I do declare, today's word is AWESOME.
Surrounded by the mighty seas
Swaying palms and tropical breeze.
Island life is quite surreal
Surprise and awe, so much to feel.
This discovery is awesome
Are these mammals playing opossum?
Or taking a nap on the shore
Guarded by those who will share the lore.
One, two, three endangered monk seal
The wonder of it all, I'm filled with zeal!
As they dream throughout salty air
Flippers and cute whiskers they bare.
Giving thanks for this unusual sight
They'll rest all day into the night.
Then back toward water for their next meals
A blessed sighting of the monk seals.
Blessings to y'all…
May all our discoveries be AWESOME.
Peace & Love,
Queen Scarlett