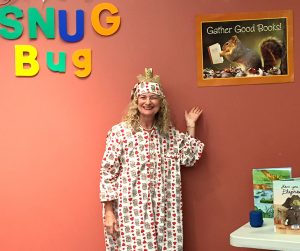 I do declare today's word is PAJAMAS.
Recently, I had the pleasure to read THE NAP RAP at the Eugene Public Library's Pajama Storytime. All the children wore their pajamas and they joined in on the musical rap… tapping, snapping, and clapping. This opportunity to interact with the kids was most encouraging, as they liked the story and my crown. I look forward to sharing more fun at the Library on Wednesday, October17th, for the Preschool story-time at 10:15 and 11 am.
After a busy day of being Royal, one of my favorite activities is getting on some comfy, cozy pajamas and reading an interesting book before slumberland. Sweet dreams!
May our PAJAMAS be cozy
Blessings to y'all
Peace & Love,
Queen Scarlett