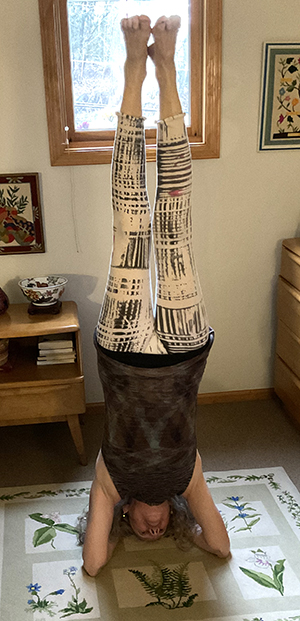 I do declare today's word is BALANCE
In this topsy turvy world finding BALANCE and staying steady
For what's next, takes focus in order to be good and ready.
My birthday is tomorrow and I'm downright amazed
With more time on my hands these long winter days.
I'm standing upside down, if only for a while
Strengthening my homebody's lifestyle.
Grateful to see things from a different point of view
Before coming down for tasks to attend to.
Breathing in mindfulness, hoping not to come down with a flop
Breathing out tensions as earth rotates without a stop.
BALANCE in all its aspects is a goal to exercise
Whether looking within or any direction with my eyes.
I'll aim for sure footing with care and graceful tact
Throughout each new day in life's balancing act.
May we all find BALANCE
Blessings y'all
Peace & Love
Queen Scarlett