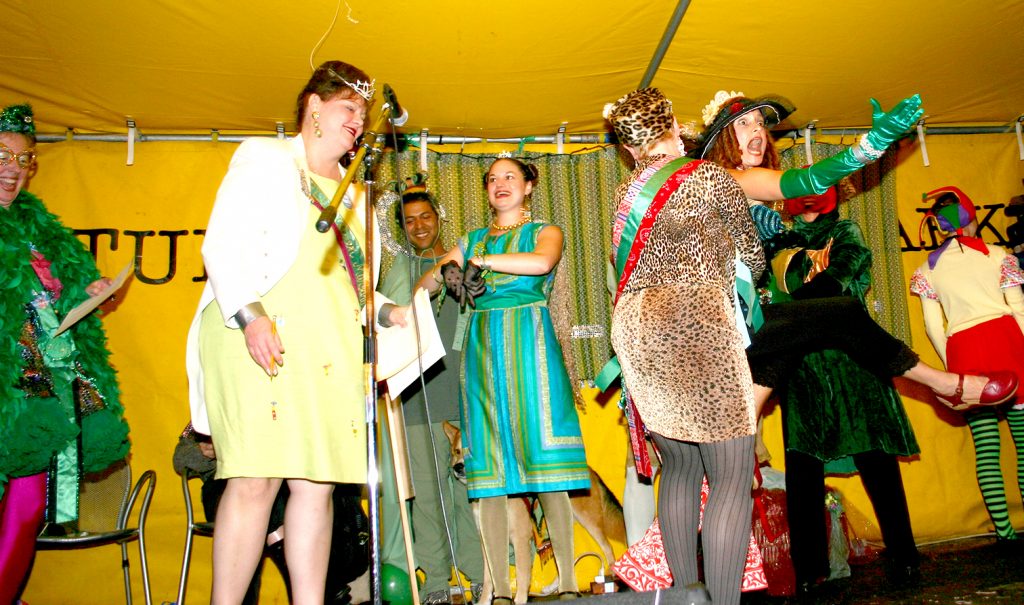 I do declare today's word is MEMORIES.
My recollection of the rainy night I became a Queen brings a mix of memories. Most of them fond.
On that infamous night in September of 2004, while getting ready for the coronation that had already begun a few blocks away, I got stuck in an elevator for almost 40 minutes with my Royal Court. There were nine of us, most in costumes including the Prince and Princess of Peace, Page Beleaf, Wizard of Wisdom and Magic, Jester of Joy and her mom, the Royal Secretary with a friend of hers and King Sam, our large mixed breed dog. We were stuck in a rather small elevator in between floors – well "I never …"! 
It was tense for a few minutes, as everyones blood pressure rose and we all began to generate heat. We were not calmed by the person on the other end of the in-elevator phone line asking,"What city are you in?"
After several calls to the service department, the City, loved ones, etc., we were rescued by the Eugene Fire Department just in time to make it to the competition at the annual S.L.U.G. Queen coronation. We all persevered and with more adrenaline than a Southern Belle could handle, there was still more to come. I was literally carried off the stage before finishing the talent portion. I went kicking and screaming, "There are no rules, there are no rules!" Fortunately, the best memories are of friends old and new giving their congratulations. It's good to be Queen!
Blessings to y'all
May our MEMORIES be golden
Peace & Love,
Queen Scarlett