(Please note: This blog, in anticipation for "social having fun," was written a month ago, before the time of "social distancing.")
I declare today's word is FOOL.
Between politics and a nasty virus
It's a wonder we're not all delirious.
Dang but it's hard to tell what's coming next
I'm downright tired of feeling so perplexed.
So it's high time to start fooling around
Get cultured and check out what's to be found.
Want to participate at the Jell-O Art Show?
I'm measuring for the perfect ratio.
And brewing and stirring up a centerpiece
I find the medium brings a certain peace.
So no reason for a nervous breakdown
Y'all come on down…so you too can FOOL around!
May we FOOL around.
Current Addition: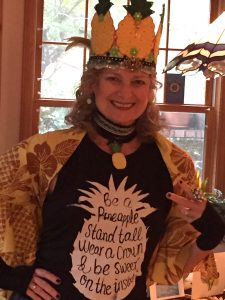 Why I do declare with disappointment:
The colorful Jell-O Art Show
Has been cancelled…it's a no go!
So if indeed, time to quarantine
By all means keep a clean scene.
NOW…I'm not fooling around
I declare today's second word is HOPE
May we hold onto HOPE.
With the severity of this illness and so many uncertainties, I questioned whether to send out a blog this week. My royal secretary and dearest friend, Clare, encouraged me to continue.
With extra time for caring for home, I've been tackling the weeds. They used to be a curse, now I embrace the troublesome plants, as the time spent with them is pensive and meditative. I plan on spring cleaning, reading, writing, walking, and practicing piano. I stay diligent with physical therapy exercises to help strengthen these old bones and continue to fall more in love with grandson, Kylen. I persevere and play the FOOL…trusting that this too shall pass.
While each of us all over the world are choosing and doing our own way of coping, I will continue to pray for this nightmare to end with all our loved ones safe and sound.
May we hold onto HOPE.
Blessings y'all
Peace & Love
Queen Scarlett