I do declare today's word is REFRESHED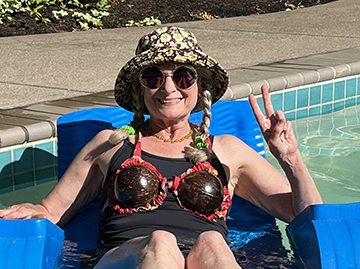 I've been taking some needed time to reflect
Though a bit rusty on writing, I still can recollect
How much I enjoy making rhymes to share and unify
And hope folks read this and maybe get a reply.
With summer warmth the garden needs tending
Pulling the whacky weeds seems never-ending.
Watering plants and making sure I stay hydrated
Brings recharged momentum to see what gets created.
Taking time for stillness surely helps to free the brain
Calms the nerves for upcoming events so I may entertain.
Ambiance singing and dancing at the Oregon Country Fair
It's a fabulous opportunity to fashion my coconuts flair.
Enthusiasm for family camping puts me in a good mood
Plus staying cool by the pool gives me an uplifted attitude.
I must take downtime seriously with a good night snooze
Life is more positive when I'm REFRESHED with new visions and views.
May we feel REFRESHED
Blessings y'all
Peace and love
Queen Scarlett